Please note: this item is shipped from our warehouse and not in store. You can order to store by selecting pickup from store option during checkout.
All-New Align T-REX 700X is specially designed for extreme 3D flight addicts.

The advanced engineered narrow body design efficiently decreases gear abrasion, machine deformation, increases power, and extends flying durability. The unique Split-Type Main Frame design, made of composite material side plates, is engineered using our proprietary embedding technology, which strengthens the entire structure and provides better accessibility for servicing the T-REX 700X. This extraordinary design includes a progressive lightweight landing skid making the T-REX 700X the leader in the 700 class. The Align T-Rex 700X is 400g (0.882lbs) lighter than our pervious model, this can effectively increase your flight time. The brand new 700EFL Flybarless Rotor Head System utilizes an extremely low CG design which reduces resistance during 3D maneuvers while increasing flight responsiveness and precision.

The T-REX 700X is equipped with the new 850MX motor which is highly efficient with superior power, excellent torque, low current draw, and is the most advanced motor approved by World RC Champions. The new designed motor cooling mount plate can reduce the motor operating temperature up to 20°C (68°F). The helicopter's high quality design is accented with precision machined red and silver metal parts. The brand new RCE-BL130A brushless ESC supplies extreme power. The ESC includes a superior governor and BEC which allows you to set 5V-8V (Step: 0.1V). The NEW DS820M/DS825M high voltage brushless servos are more efficient and out perform other servos in this class. To protect these servos the new high-end CNC aluminum case function as a heat sink allowing the servos to operate at a lower temperature.

Gathering fully ultimate perfection all in one : Steelness, Lightweight, Precision. T-REX 700X, the King of the Sky is now arrived! What are you waiting for? Let the most innovative design and high-end equipments elevate the adrenaline in your blood!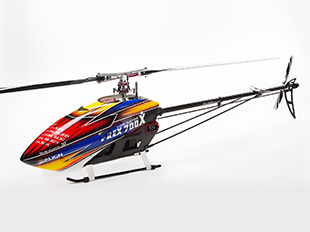 Manufactured with durable lightweight fiber material, and utilizing an engineered aerodynamic design, the Align Advanced Lightweight Canopy forms a protective shield for the entire machine.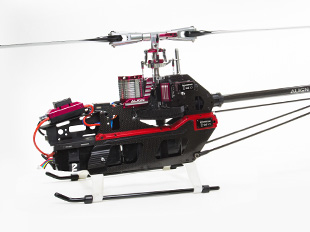 Landing skid is tilted 5 degree forward which improves crashworthiness.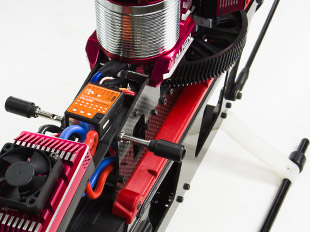 Engineered Narrow Body Design efficiently decreases gear abrasion and machine deformation. The Align T-Rex 700X newly designed narrow body is more powerful and has longer flying durability.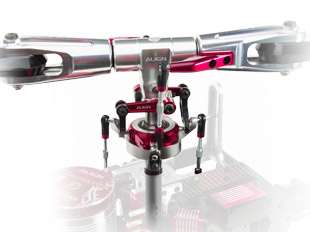 The 700EFL Flybarless Rotor Head System utilizes extreme low CG design to effectively reduce resistance during 3D maneuvers while increasing flight responsiveness and precision. In addition, the high quality of the helicopter design is accented with red anodized and stainless color precision machined metal parts.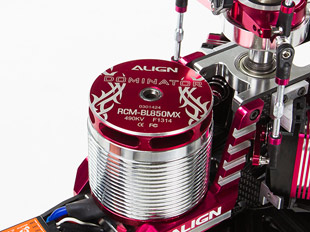 Our new 850MX motor inherited features from the previous 800MX such as high efficiency, superior power, excellent torque, low current draw, and a low operating temperature. The 850MX is capable of maintaining a more consistent torque and head speed through continuous 3D maneuvers. This is a particularly designed for 3D flights.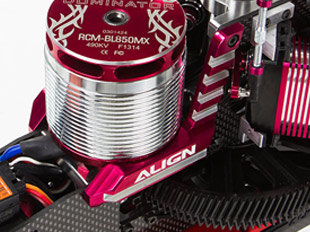 The CNC Plate is designed to strengthen the Align 700X frame while efficiently acting as a heat sink to efficiently dissipate motor heat. (This can lower motor temperature up to 20 degrees Celsius during flight)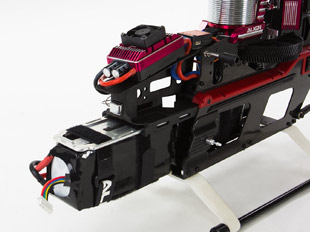 3K Main frame features; embedded battery mounting rails, integrated magazine structure, and a latch design. The CNC Aluminum Battery Mount provides great protection for the battery while providing a convenient way for mounting.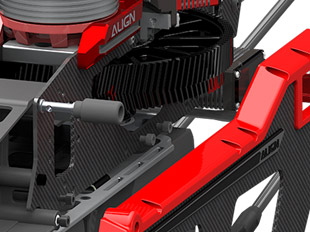 Composite material side plates engineered by exclusive embedding technology, which strengthens the entire structure and eases serviceability.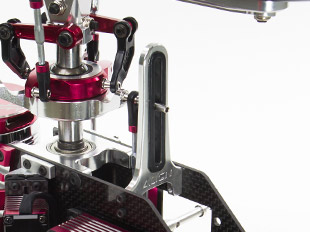 Integration of CNC Aluminum alloy and POM Polyacetal which can lower friction between the linkage ball and the Metal Anti Rotation Bracket. In addition, this new design increases the efficiencies and accuracy of the servos.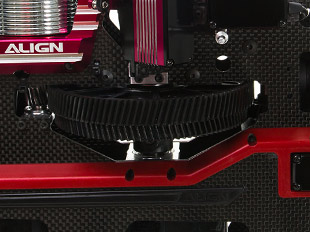 Highly enhance structural strength, effectively increase the torsional capability.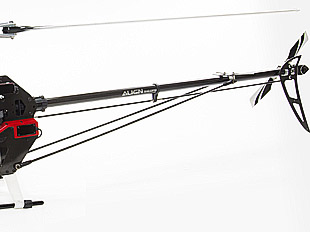 Brand new matting carbon tailboom using carbon fiber and aluminum imbedded technology, features light weight and high strength.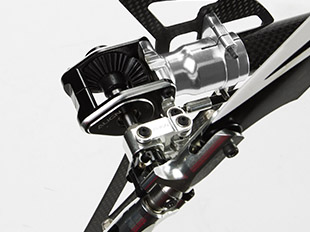 Durable and Precise! Manufactured with stronger material, the Torque Tube Front Drive Gear is more durable and precise. The stronger material reduces the probability of gear striping during flight or damaging the gear as a result of a crash. A simple enhanced Multiple-bearing design allows smooth and accurate movement. Take control of your T-Rex 700X just the way you like it!
Electric equipment
●850MX Brushless Motor(490KV/4535) x 1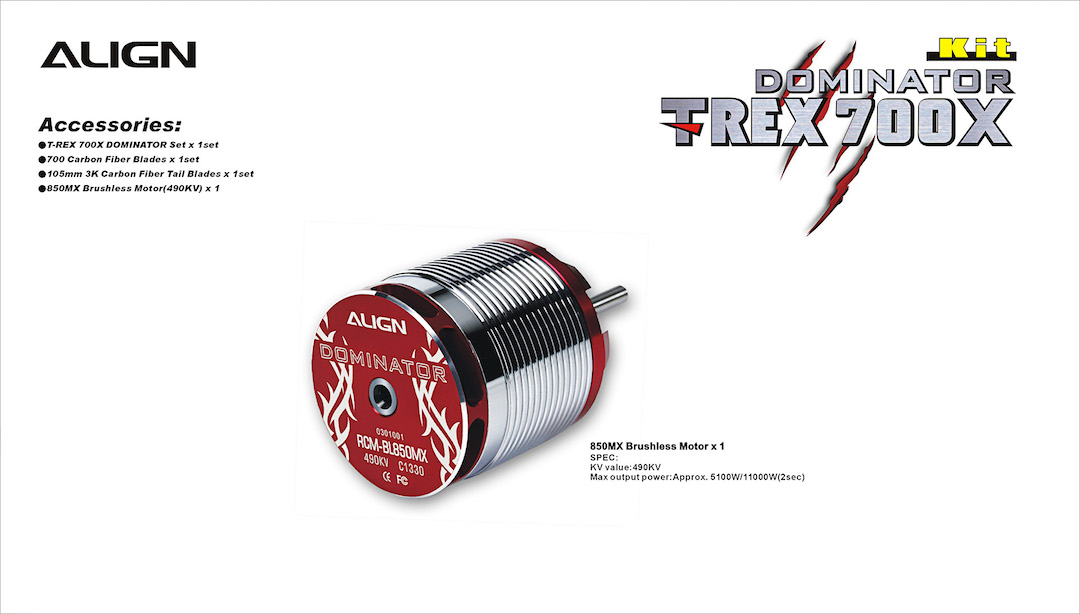 Specification
●Length: 1320mm
●Height: 360mm
●Width: 195mm
●Main Blade Length: 700mm
●Main Rotor Diameter: 1582mm
●Tail Rotor Diameter: 281mm
●Motor Drive Gear:13T
●Main Drive Gear:110T
●Autorotation Tail Drive Gear: 102T
●Tail Drive Gear: 23T
●Drive Gear Ratio: 8.46:1:4.43
●Weight(With Battery): Approx. 5100g
Accessories
●T-REX 700X Kit Set x 1 set
●700 Carbon Fiber Blades x 1 set
●106mm 3K Carbon Fiber Tail Blades x 1 set
●850MX Brushless Motor(490KV/4535) x 1
Radio transmitter and electronic equipment required for assembly:
●Transmitter(6-channel or more, helicopter system)
●Receiver(6-channel or more)
●6S Li-Po 4500 ~ 5200mAh x 2
●Digital Pitch Gauge
●CCPM Brushless Servo x 3
●Rudder Brushless Servo x 1
●Brushless ESC x 1
●Flybarless System x 1
Main Blades
Tail Blade
RPM approx.
Tail Drive Gear
Front Drive Gear
Drive Gear Ratio
Standard
700
106
2150 ~ 2200 RPM
102T
23T
8.46/1/4.43
Re-fitting
700
106
2000 ~ 2150 RPM
104T
22T
8.46/1/4.73
Re-fitting
700
106
< 1900 RPM
105T
20T
8.46/1/5.25
For your safety, please pay attention to the above 2200 RPM, incorrect excess 2200 RPM may result in damage to the helicopter or injury the porperty of others.


(200001628)
| | |
| --- | --- |
| SKU | 200001628 |
| Brand | Align |
Be The First To Review This Product!
Help other RC Crew users shop smarter by writing reviews for products you have purchased.